THE VALUE OF GÕOD EYESIGHT
REFRACTIVE SURGERY WITH INTRAOCULAR LENSES
In some patients the risk/benefit of correcting a refractive defect with laser refractive surgery is too high, either because of the magnitude of the defect (number of diopters), or because of the presence of an irregularity or fine thickness of the cornea. In these cases, it is necessary to correct the refractive defect (myopia, astigmatism, hypermetropia) by implanting an intraocular lens.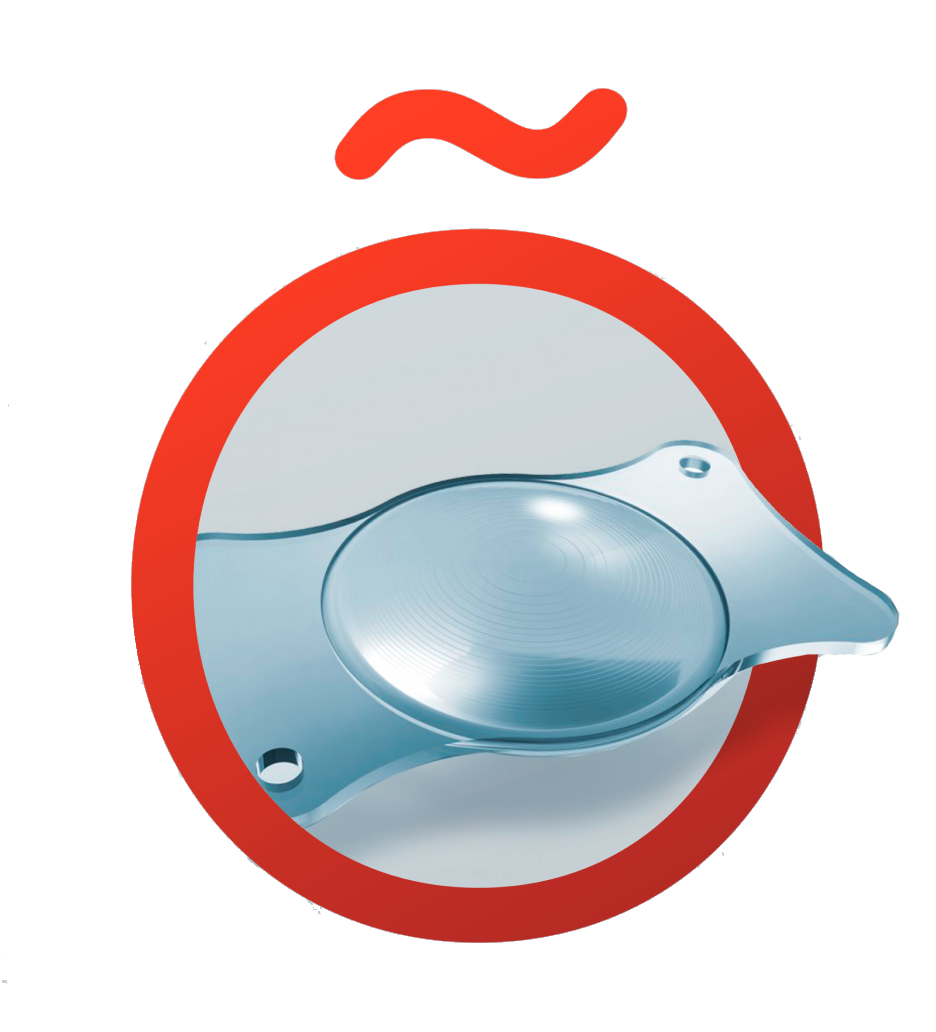 Call us or, if you prefer, we will call you
+34932279391
At visiõnclínic+ we have the most advanced tools, such as the ZEISS® ARTEVO 800 microscope or the Bausch & Lomb® VICTUS™ femtosecond laser. We can implant all types of intraocular lenses and we work with the most recognized commercial brands
TYPES OF INTRAOCULAR LENSES
PSEUDOPHAKIC INTRAOCULAR LENS
Refractive surgery with a pseudophakic intraocular lens consists of extracting the lens through ultrasonic emulsification of the lens (phacoemulsification), which can be assisted with a femtosecond laser. The procedure is completed by implanting an intraocular lens that can be of different types:
Monofocal intraocular lens: corrects the spherical refractive defect of far vision or myopia.

Toric monofocal intraocular lens: corrects distance defects, including astigmatism.

Trifocal intraocular lens: corrects the refractive defect from far and near (myopia and hypermetropia).

Toric trifocal intraocular lens: corrects both far and near defects (myopia and hyperopia), including astigmatism.

Extended Depth of Focus (EDoF Extended Depth of Focus) lenses: correct distance defects by improving intermediate vision. These can be toric, when astigmatism is to be corrected.
Refractive surgery with a phakic intraocular lens consists of implanting a very thin lens, made of a collamer material, in front of the lens and behind the iris. These phakic lenses are known as ICL (Intraocular Contact Lens). It is a reversible procedure (it can be explanted/replaced if necessary) and allows accommodation (ability of the lens to focus closely) to be preserved as long as presbyopia has not been established. The anterior chamber must not be very narrow (2.80 mm between endothelium and anterior face of the lens).
Phakic lenses can correct myopia up to -18 diopters, hypermetropia up to a maximum of +10 diopters (although these patients usually have narrow cameras that contraindicate their implant) and astigmatism up to 6 diopters.
Refractive surgery with an intraocular lens is a fully outpatient procedure (no admission). In addition, it is performed using topical anaesthesia making a corneal incision of 2.2 mm. There is no need to use sutures and the patient can leave the operating room with the eye uncovered, although the initial vision is blurred and there may be photophobia, since the pupil needs to be dilated for this type of intervention.
A month of treatment with antibiotic and anti-inflammatory drops will be required. To operate on both eyes with intraocular lenses, it is advisable to separate the two procedures by at least 1 week.
WHAT IS INTRAOCULAR LENS SURGERY FOR?

Myopia appears when the eyeball is slightly longer than normal or when the cornea is very curved. The light rays are then focused on the front of the retina, causing loss of sharpness in the vision.
You suffer from hypermetropia when you have a shorter eyeball or a cornea that is too flattened, and light focuses behind the retina. It makes near and sometimes distant vision blurry.

Astigmatism occurs when the cornea bends or flattens unevenly in its meridians thus altering the focus of near and far vision. This is known as astigmatism.
FIRST VISIT AND CASE STUDY
Request an appointment without obligation. You will be attended by one of our professionals who will follow your case from your initial visit until after the refractive surgery with intraocular lenses.
¿QUIERES ESTAR AL DÍA DE LAS ÚLTIMOS TRATAMIENTOS, NOVEDADES Y OFERTAS DE VISIÕNCLÍNIC+?